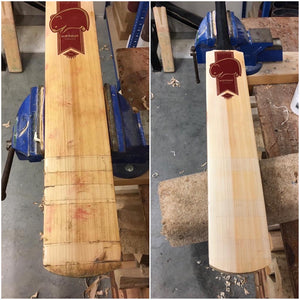 Bat Repair service
Regular price
$57.78
Save $-57.78
/
Tax included.
---
**WE REPAIR ANY MAKE/BRAND OF BAT**
If your bat has had a hard season and needs repairing or refurbishment, we offer the following services: -
- Full Clean up, sanding & re-grip (No Repairs)       
- Full repair on cracks and splits (including full clean up)        
- Re-handle       
-Re-handle & full Clean up     
- Bat Modification (Weight Reduction) 

- Cracked edge repair
- Split toe repair
All repairs are expected to take between 7-10 working days to complete. 
Please select either standard or express return delivery at checkout
For multiple repairs on a bat or multiple bat repairs under one order, please contact us via email (info@wombatcricket.co.uk) before booking your bat in for repair.